Making a jewellery box is a fun and creative way to store and display your favourite pieces. You can make a simple box out of wood or card, or get more creative with different materials and designs. There are plenty of ways to make a jewellery box, so we've put together a few tips to help you get started. Read on for some inspiration on how to make your very own jewellery box!
Gather your supplies
You will need a few supplies to make your own jewelry box. You will need a box, some foam, fabric, and ribbon. You can find these supplies at your local craft store.
1. Start by finding a box that is the right size for your needs. You want the box to be big enough to hold all of your jewelry, but not too big that it takes up too much space.
2. Next, cut a piece of foam to fit snugly inside the box. This will help protect your jewelry from getting scratched or damaged.
3. Then, cover the foam with a piece of fabric. You can use any type of fabric you like, but make sure it is sturdy enough to withstand some wear and tear.
4. Finally, decorate the box with ribbon or other embellishments. This is completely up to you and your personal style!Decide on the size and shape of your jewellery box
When it comes to deciding on the size and shape of your jewellery box, there are a few things to consider. First, think about how much jewellery you have and how much you plan on storing in the box. If you have a large collection, you'll need a bigger box. Second, consider the types of jewellery you have. If you have primarily necklaces, you'll want a taller box so they can hang. If you have mostly bracelets and rings, a shorter box will suffice. Lastly, think about the aesthetic you're going for. A sleek and simple rectangle might be your best bet, or maybe you want something more fun and unique like a heart or star-shaped box. No matter what you decide, just make sure it's big enough to hold all your beautiful jewellery!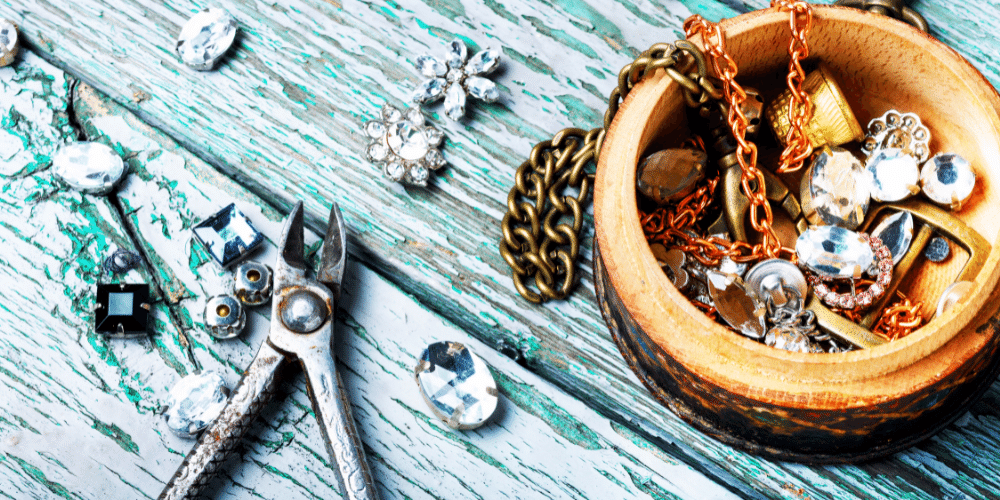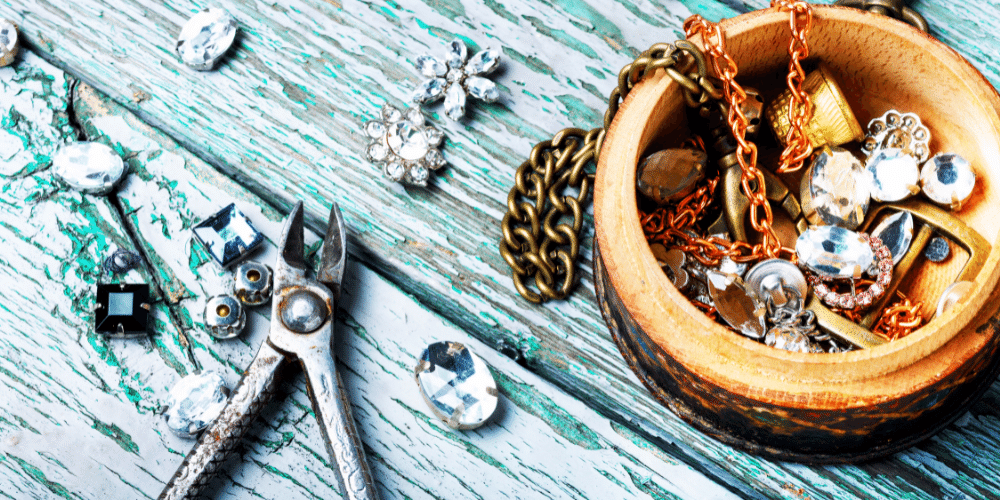 Cut out your cardboard pieces
1. Using a sharp knife, cut out your desired shape from the cardboard.
2. If you want a more precise shape, you can use a template or stencil.
3. Once you have your shape cut out, use sandpaper to smooth out any rough edges.Glue or tape your pieces together
If you're using glue, apply a thin layer to both surfaces that will be joined together. Press the pieces firmly together and hold for a few seconds. If you're using tape, apply a strip of tape to one surface and press the two pieces together.
You want to make sure that your jewellery box is securely put together, so take care in choosing which method you use. If you're not sure, ask a friend or family member for help. Once your jewellery box is complete, fill it with your favourite trinkets and enjoy!Add any extra details or decorations
Adding extra details or decorations to your jewelry box is a great way to personalize it and make it truly unique. Here are a few ideas to get you started:
-Paint or stain the wood to create a different look.
-Add some pretty decals or stickers.
-Wrap the box in pretty patterned paper.
-Tie a ribbon around the box for a touch of elegance.
-Use hot glue to add beads, sequins, or other small embellishments.
Whatever you decide to do, have fun and be creative!Put your jewellery in the box and enjoy!
Assuming you have a jewelry box:
-Place your rings on the ring holder
-Put your earrings in the little slots or on the hooks
-Put your bracelets and necklaces in the sectioned off area or on the hooks
-If you have a watch, place it on the felt in the bottom of the box or in its own special compartment
-Enjoy looking at your neatly organized jewelry collection!What you will need
You will need a few supplies to make your own jewelry box. These include:
-a small wooden box (or any other type of box that you have on hand)
-paint or stain (optional)
-felt or other fabric to line the inside of the box
-hot glue and glue sticks
-scissors
-a drill with a small bit (optional)
With these supplies, you can create a beautiful and unique jewelry box for yourself or as a gift for someone else. The steps are simple and only require a little time and effort. Let's get started!Step by step instructions
If you're looking for a unique and stylish way to store your jewelry, look no further than a homemade jewelry box! With just a few supplies and a little bit of time, you can create a beautiful and functional piece that will keep your necklaces, rings, and earrings organized and safe.
To get started, you'll need:
-A wooden box (I used an old cigar box, but any small box will work)
-Scissors
-Mod Podge or other decoupage glue
-Paper or fabric scraps
-Paintbrush
-Ribbon or trim (optional)
First, cut your paper or fabric into small pieces. You can use scrapbook paper, magazine pages, wrapping paper, pretty much anything! If you're using fabric, you may want to iron it first to remove any wrinkles.
Next, brush a layer of Mod Podge onto one side of your box. Then begin attaching your paper or fabric pieces to the glue, working in small sections until the entire box is covered. If you're using multiple colors or patterns, be creative with how you place them – try overlapping pieces or arranging them in a certain order. Once you're happy with the design, brush on another layer of Mod Podge over top to seal everything in place. Allow the glue to dry completely.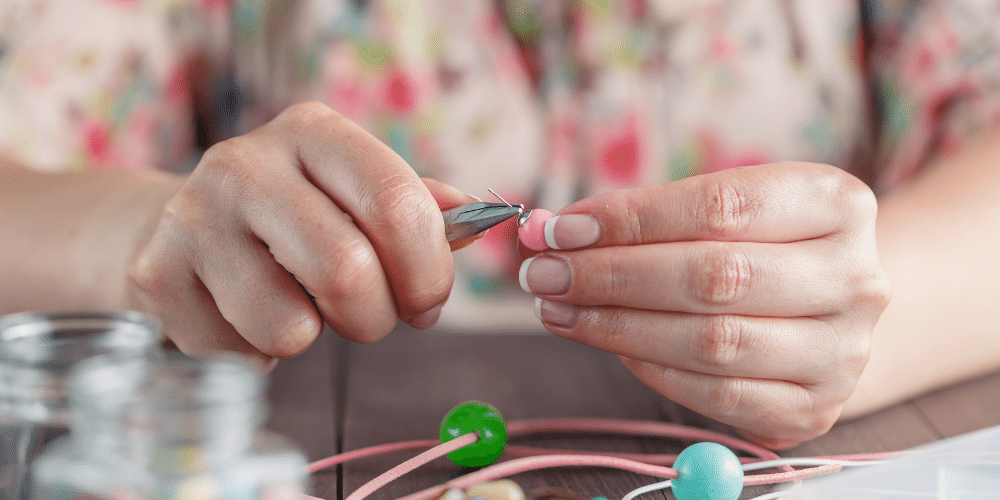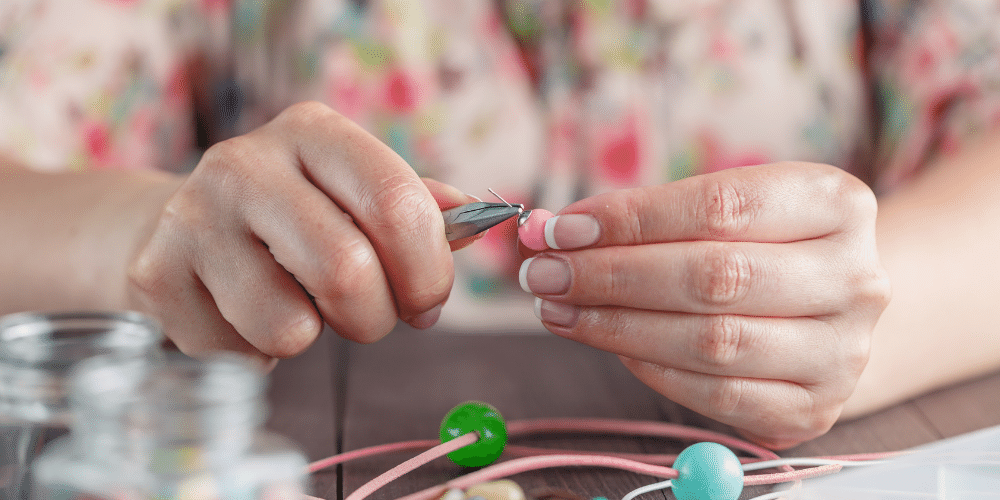 If desired, add some ribbon or trim around the edges of the lid for extra decoration. And that's it! Your new jewelry box is ready to use.Tips and tricks
If you're looking for a unique and stylish way to store your jewelry, look no further than a homemade jewelry box! With a little bit of creativity and some basic supplies, you can easily make your own jewelry box that will keep your prized possessions safe and organized.
Here are a few tips and tricks to get you started:
1. Choose the right size box. Depending on the amount of jewelry you have, you'll want to select a box that is large enough to accommodate everything. If you plan on adding more jewelry to your collection in the future, opt for a larger box so that you won't have to upgrade down the road.
2. Pick a sturdy material. Boxes made from cardboard or flimsy wood are more likely to fall apart over time, so it's worth it to invest in a sturdier option like plywood or MDF. These materials will hold up better over time and keep your jewelry protected.
3. Decorate it however you want! This is the fun part – use paint, paper, fabric, beads, or any other craft supplies you have on hand to personalize your box and make it your own. Get creative and let your personality shine through!
4. Make sure the inside is lined. To protect your jewelry from scratches, consider lining the inside of your box with felt or velvet fabric. You can even use old pillowslips or shirtsleeves if you're feeling thrifty!Conclusion
In conclusion, making a jewellery box is a fun and easy project that anyone can do. With a few simple supplies and some basic woodworking skills, you can create a beautiful and functional piece of furniture to keep your treasured jewellery safe and organized. Give it a try today!