When you think of oak kitchen cabinets, what do you see? Maybe something outdated and old-fashioned? Well, it doesn't have to be that way! With a few simple tips, you can modernize your oak cabinets and make them look chic and stylish. Here are four easy ways to achieve a modern look for your oak kitchen cabinets: 1. Paint them a light, neutral color. 2. Replace the hardware with something more contemporary. 3. Add in some glass or mirrored accents. 4. Keep the rest of your kitchen simple and clean-lined. Follow these tips and you'll have oak kitchen cabinets that look fresh and modern in no time!
Sanding
When sanding your oak kitchen cabinets, you'll want to use a medium-grit sandpaper. You'll also want to make sure that you sand in the direction of the grain. Start with the cabinet doors and then move on to the frames and drawer fronts. Once you've sanded all of the surfaces, you'll want to wipe down the cabinets with a damp cloth to remove any dust.
Staining
When it comes to staining oak kitchen cabinets, there are a few things to keep in mind. First, you'll want to choose a stain that complements the wood grain and brings out the natural beauty of the oak. Second, be sure to test the stain on a hidden area of the cabinet before applying it to the entire surface. This will help you determine how long to leave the stain on and how many coats to apply. Finally, always wipe up any excess stain immediately after application and be sure to follow the manufacturer's instructions for best results.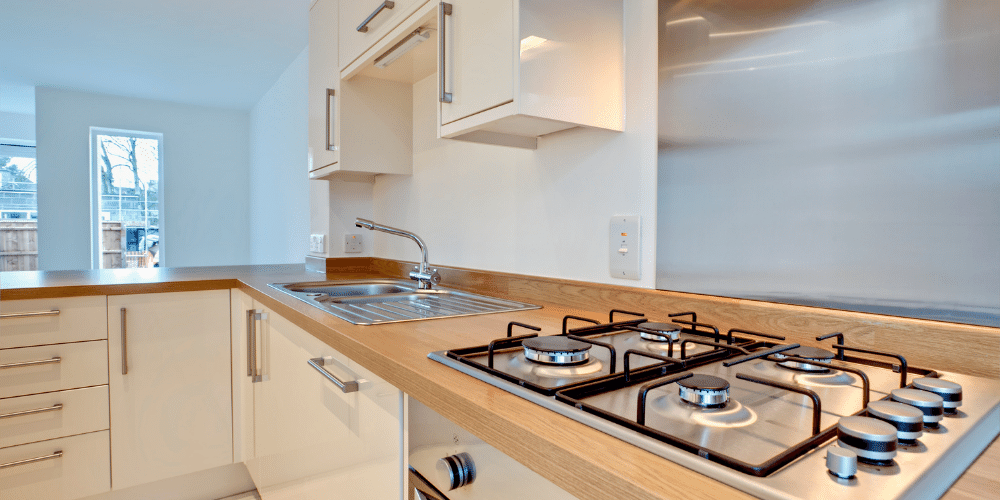 Painting
When it comes to painting oak kitchen cabinets, there are a few things to keep in mind in order to achieve a modern look. First, consider using a light paint color on the cabinets. This will help to brighten up the space and make it feel more open. A white or light grey would be ideal.

Next, consider painting the cabinets in a high-gloss finish. This will give them a more modern look and feel. Finally, don't forget about the hardware! Cabinet knobs and pulls can really make or break the overall look of your cabinets. So, be sure to choose something that is both stylish and timeless.
Door hardware
If your oak kitchen cabinets are looking a little dated, there are some easy ways to give them a modern makeover. One way is to simply change out the hardware. replacing door knobs and drawer pulls with more contemporary styles can instantly give your cabinets a fresh new look. Another option is to paint or stain the cabinets in a different color. For a truly modern look, consider using a high-gloss finish.
Countertops
1. Start by sanding down your oak cabinets. This will help to create a smooth surface for painting or staining.

2. If you want to paint your cabinets, choose a light-colored paint that will brighten up the space.

3. To stain your cabinets, choose a dark-colored stain that will give them a modern look.

4. Once you've chosen your finish, apply it evenly and allow it to dry completely.

5. Finally, add new hardware to your cabinets for an updated look. Choose modern-looking knobs or handles that will complement the new finish on your cabinets.
Backsplash
When it comes to kitchen design, there are a lot of ways to make oak cabinets look modern. One way is to incorporate a backsplash into the design. Backsplashes can be made from a variety of materials, including glass, metal, or tile. They can also be custom made to match the exact dimensions of your kitchen.

When choosing a backsplash, it's important to consider both function and aesthetics. For example, if you're looking for a backsplash that will protect your walls from splatters and spills, then tile would be a good option. If you're more interested in a backsplash that makes a statement and adds some personality to your kitchen, then metal or glass would be better choices.

Once you've decided on the material for your backsplash, the next step is to choose a design. There are literally hundreds of different designs available, so take some time to browse through online galleries or visit your local home improvement store for ideas. When it comes to oak cabinets, simple designs tend to work best. You don't want anything too busy or ornate that will take away from the natural beauty of the wood grain.

Once you've settled on a design, the next step is to install the backsplash. This is usually a fairly easy process, but it's always best to consult with a professional before undertaking any major home improvement project. With proper planning and execution, your new backsplash will help
Appliances
One of the easiest ways to modernize oak kitchen cabinets is to replace old appliances with new, stainless steel models. This will instantly give your kitchen an updated look. If you can't afford to replace all of your appliances at once, start with the fridge and stove. These are the two largest appliances in the kitchen and will make the biggest impact.
Introduction
Oak kitchen cabinets are a classic choice for many homes, but they can sometimes look dated. If you want to give your oak cabinets a modern update, there are a few easy ways to do it. painting them a new color, adding new hardware, or refacing them with modern doors and drawer fronts. With just a few simple changes, you can take your oak cabinets from dated to modern in no time.
What You Will Need
-a screwdriver
-a drill
-pliers
-a hammer
-a saw
-wood screws
-paint or a sealant
-rags or a brush

If you want to modernize your oak kitchen cabinets, you won't need to replace them entirely. With some elbow grease and a few tools, you can give them a facelift that will make them look sleek and stylish. Here's what you'll need:

-A screwdriver: To remove any hardware on the doors and drawers, like knobs or handles.
-A drill: This will be used to make new holes for the hardware.
-Pliers: In case you need to twist or bend anything.
-A hammer: To help drive in any nails or screws.
-A saw: If you need to trim down the cabinet doors or cut anything to size.
-Wood screws: These will be used to attach the new hardware.
-(Optional) Paint or a sealant: If you want to change the color of your cabinets or protect the wood, you can use paint or a clear sealant.
-(Optional) Rags or a brush: For applying the paint or sealant.
Step One: Clean and Sand the Cabinets
Before you start painting your oak kitchen cabinets, it's important to clean and sand them first. This will help the paint to adhere better and also give you a smooth surface to work with.

Use a mild cleaner and a soft cloth to clean the cabinet doors and drawer fronts. You may need to use a little elbow grease to get rid of all the dirt and grime. Once they're clean, sand them lightly with fine-grit sandpaper.

Now that your cabinets are ready, it's time to start painting!
Step Two: Apply a Primer
If you want to make your oak kitchen cabinets look modern, the first thing you need to do is apply a primer. Primer will help to smooth out any imperfections in the wood and will also help to create a barrier between the paint and the wood. Once you have applied the primer, you can then start painting your cabinets with a high-quality paint.
Step Three: Paint the Cabinets
Once the primer is dry, it's time to start painting! For a modern look, we recommend using a high-gloss paint. Start with a small brush to get into all the nooks and crannies, then use a larger brush or roller for the rest of the surface. Two or three coats should do the trick. Let the paint dry completely between coats.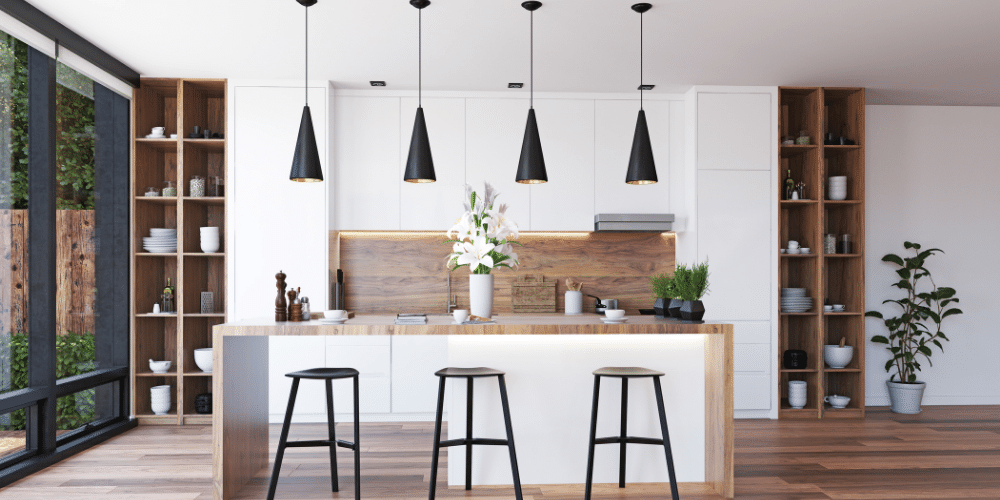 Step Four: Add New Hardware
If you're looking to add a touch of modernity to your oak kitchen cabinets, consider adding new hardware. Hardware is an easy way to change the look of your cabinets without having to replace them entirely. New pulls and knobs can give your cabinets a fresh look, and they come in a variety of styles to suit any taste.

When shopping for new hardware, it's important to keep the size and scale of your existing cabinets in mind. If you have small cabinets, opt for small pulls or knobs. Likewise, if you have large cabinets, go for larger hardware. Once you've selected the perfect hardware for your cabinets, simply screw it into place and enjoy your new look!
Conclusion
So, there you have it — some tips on how to make oak kitchen cabinets look modern. If you're thinking of updating your kitchen, but don't want to break the bank, this is a great way to do it. With a little elbow grease and some creativity, you can transform your space into something truly special. Thanks for reading!